---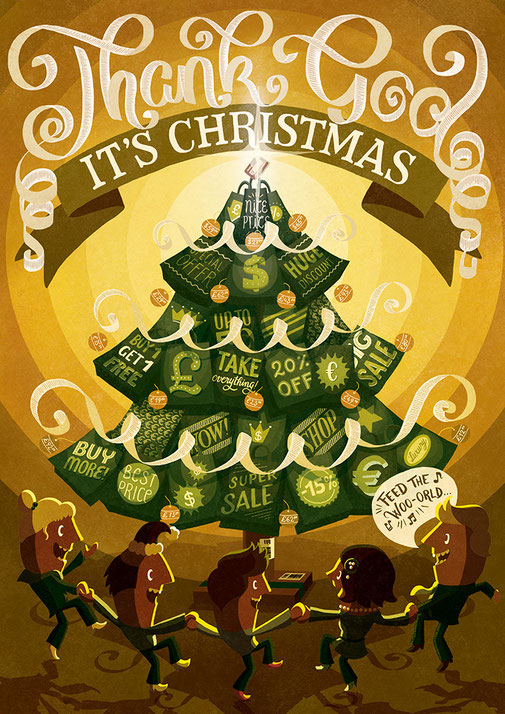 This is a very close and personal insight into my creation process. It started with a good idea, that seemed to be already finished in my imagination, but during the creation process I found out, that it's not that easy to point the idea. All in all it took me about a half year to finish this illustration. But I learned a lot during this process! And I'd like to share my experience with you.
---
The idea
First of all, there was this idea about pointing the problem of our affluent society, that you can see by the huge amount of shopping bags and Amazon packages during the pre-Christmas periode. So I had the idea to show this by building a Christmas tree out of shopping bags, Amazon packages, price tags and shopping bills, illuminated by a golden credit card on top, instead of a Christmas star. To bring out the lightheartedness of people in all their luxury, I wanted some people dancing and singing around that Christmas tree. I had some charity pop songs in mind, that fit well to this issue – "Thank God, it's Christmas" by Queen, which became the title of this illustration, because it's really in stark contrast to the image, and it points the aberration of this "holy feast", and the other one is "Do they know it's Christmas? (Feed the world)" by Band Aid. One of the dancing people sings it like a catchy tune, which is a little misbehaved in view of their luxury.
Developing the tree
At first, I focused on the Christmas tree. A rough sketch, a detailed sketch, and the colored artwork. Ready – wow! I was so proud, because that damned tree took so much time! At that time I found out, that I have to change my coloring technique to work more efficient. I thought, "Ok, most of the work is done now, just adding the dancing people and a nice lettering, putting it all onto a nice background, then I have an amazing piece of work!" Haha … if I only knew. I was just at the beginning of a long, long process.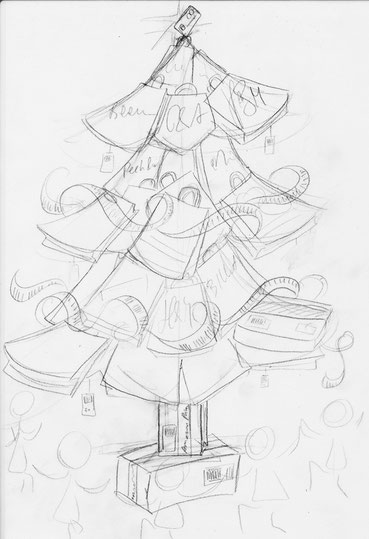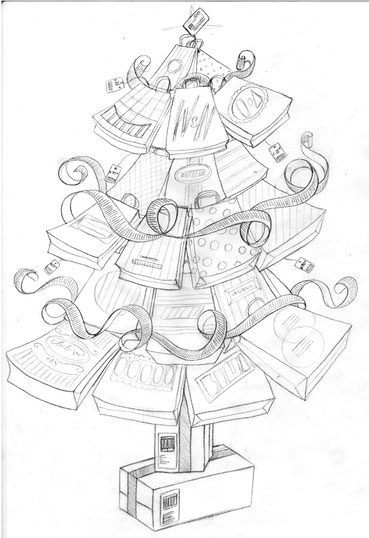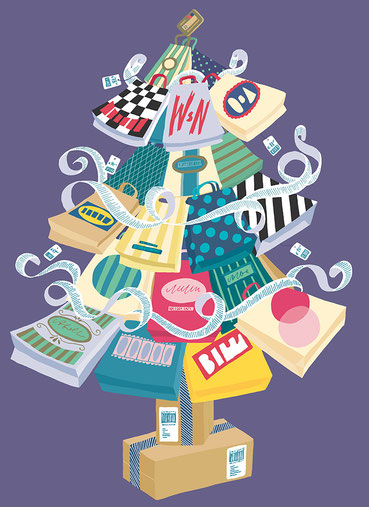 ---
Adding background, lettering and people
So, I developed some nice dancing people and put them together with the tree on a background, that I've already developed for a Christmas card. The Christmas card was very powerful, and so I thought, that color range would be the perfect solution for this picture. It wasn't.
No contrast, not a bit three-dimensional, just plain, squeaky and childish. Even if I wanted some touch of irony, that was not the right effect.
Shadows and contrast
So I added some shadows and contrast to gain that illuminated Christmas atmosphere (which took a lot of time again). Now I was happy with it. For a while.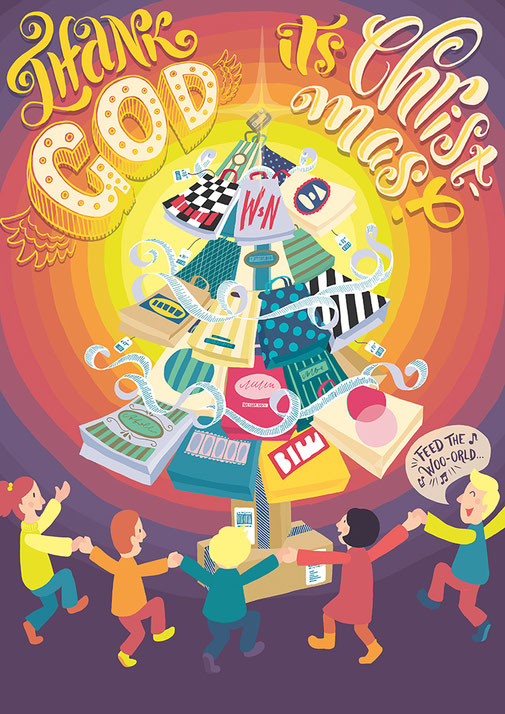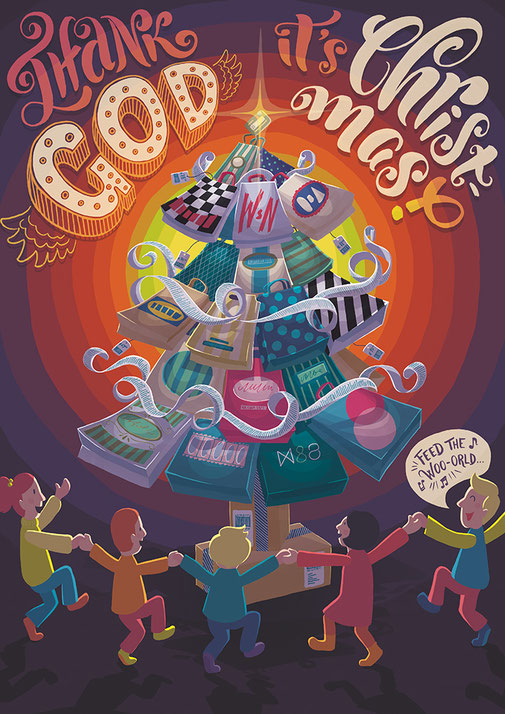 ---
Changing the color range
After some time I looked at this illustration again, and I thought "No. There's something wrong with it. The color range still doesn't fit with that issue. It is too much like a Children's book. And the tree is not recognizable enough, the bags are too colorful." I decided to reduce the colors, to make a stronger differentiation between foreground and background. And to make it less childish. I thought that a combination of dark green and golden shades gives the illustration a more glamorous look, which supports the idea of luxury. Also the shopping bags got stylish patterns and letterings, instead of common cheap shop designs. That was a big improvement.
Developing new characters
I really liked this golden, illuminated Christmas atmosphere, and the tree was much more recognizable as a tree. But the dancing people still had this childish appearance. In my very first imagination, they should have been some kind of strange joker-characters. I don't know why, but in my imagination they were the right kind of characters to point the idea. So I put myself together to change the dancing people completely. At this time I was developing some different character styles, and there were those "clownish people" with that colored rings around their googly eyes, bean-shaped bodies, big mouth and teeth and clown noses. I thought, they would be good to bring something vexing into this harmonized picture.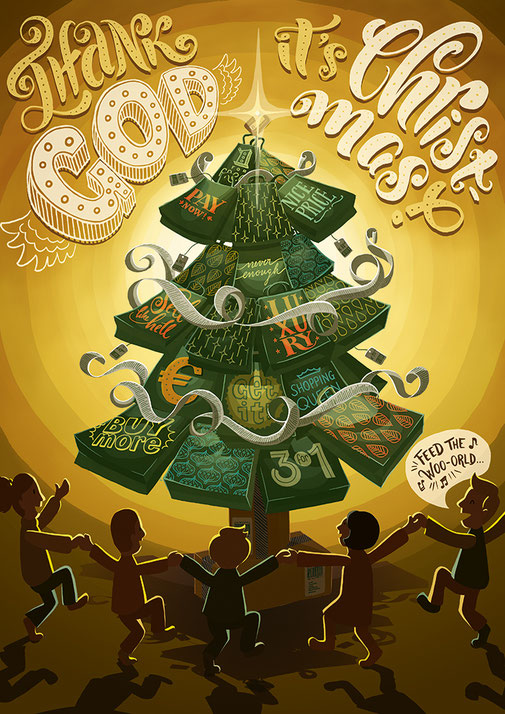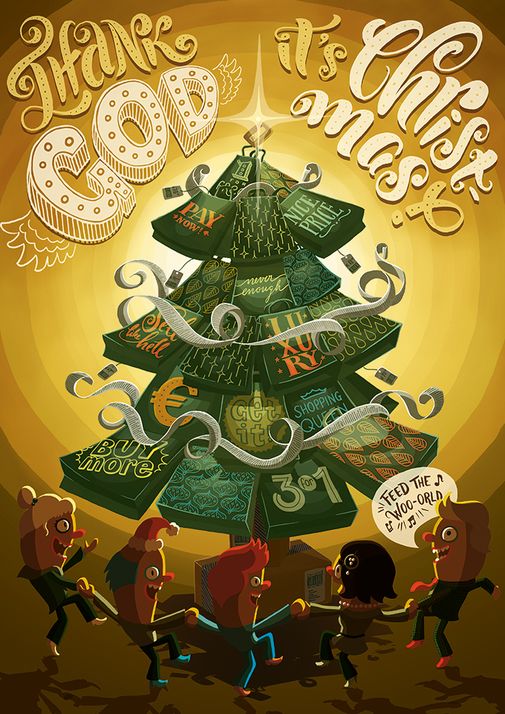 ---
Changing everything else
Now that was closer to my first imagination. But then I saw a lot of other things, that I wasn't happy with, and I thought, "Well, I've done so much revision until now, I should go on until I'm really happy with it. Otherwise all the work was for nothing."
I wasn't happy with the lettering. The readability wasn't good, because the sentence was split into left and right, and the flow of reading wasn't clear. And I wasn't happy with the shape of the Christmas tree. It was a kind of  misshapen, not in balance, and the shopping bags were too big. To build a better Christmas tree, I needed more and smaller bags. So I illustrated a completely new Christmas tree.
I also wanted to harmonize the appearance of lettering and tree with the dancing people. So I integrated their eyes as a design element and I created a new lettering with shapes based on that bean-shaped appearance of the characters. I also transferred the colors of the characters onto the shopping bag design and the lettering. The characters seemed a little bit too clownish, so I changed the noses and lips.
A new lettering concept, that makes sense
That big change was a big step forwards again. But still not perfect. The characters were still too scary. I had to change their eyes. Now that the googly eyes were gone, they either didn't make any sense at the Christmas tree and in the lettering. So I also had to change that. But I wanted a concept for my lettering, that goes along with the illustration. And so I found the perfect solution for that: I built a script lettering out of the shopping bills, that were already at the Christmas tree. This connection makes sense!
But again I wasn't happy with the colors. They were too squeaky again. I tried out a green/red/brown-composition, and I added some texture over the whole picture, to soften the colors. It was better now, but it looked kind of dirty, and the shopping bill lettering had too much contrast, which affected its readability.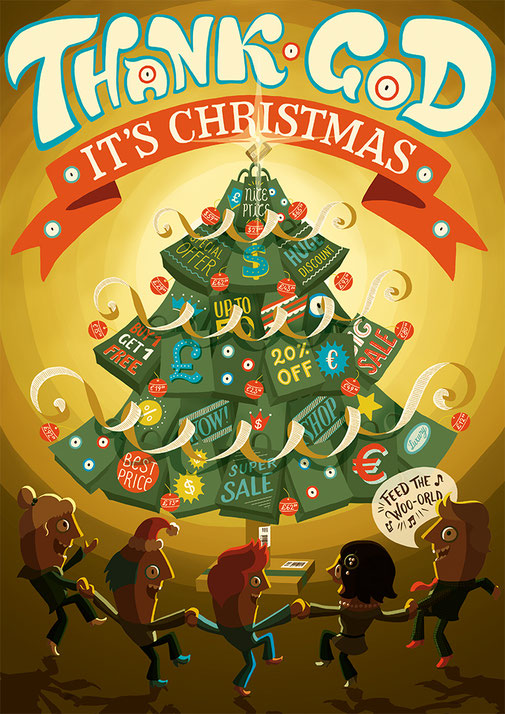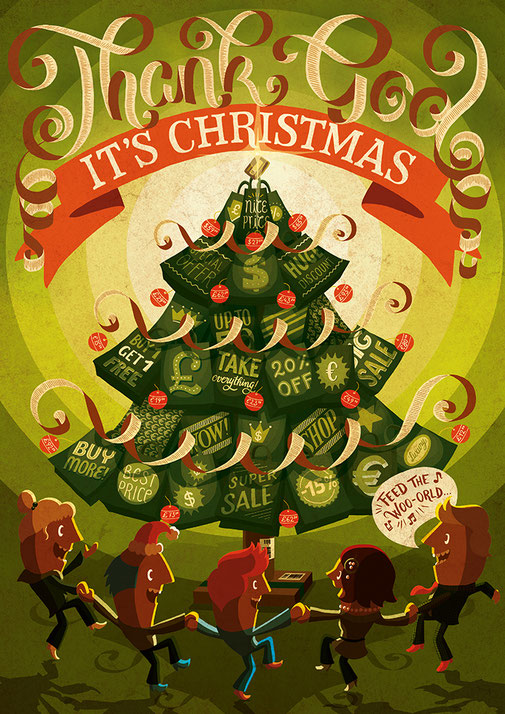 ---
The final version
So I went back to the golden color range, that I liked most from the beginning – and it was the right choice!
Finally I am happy with this version. For now ;).
---