---
This illustration was growing over more than two years. First there was just the horse-figure. Later I added the typographic background. With the last revision I changed the flower shapes and I found the perfect color palette.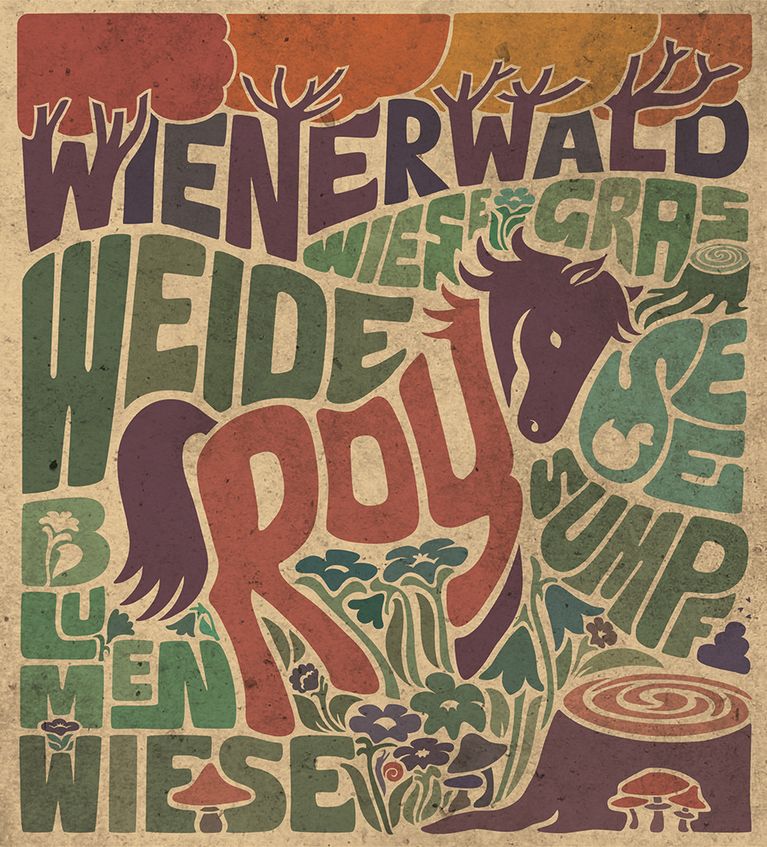 The problem with the flower shapes was, that they were too much "common comic style" – like every child would draw a flower, without consideration on perspective or natural appearance … very symbolic. Now I developed a more individual and advanced flower style.
Even so the color palette: for the last version I chose very common colors – brown trunks, green treetops, black horse, and so on. During the last year I concerned myself a lot on color combinations. It's not as easy as it seems. But with this revision I learned, that trunks don't have to be brown, a black horse doesn't have to be black in an illustration, there is no need to cling to "real" colors. It makes a picture much more interesting to focus on building areas and layers with colors, that simulate a depth, even in a "flat" picture. That's what I did here: "Wienerwald", the horse "Roy" and the trunk in the front are building a unit in red shades, which contrast with the "grass-area" ("Weide", "Wiese", "Sumpf", "See" …) in green and blue shades. So there seem to be a background-layer ("Wienerwald"), a middle (grass-area) and a front (horse and trunk). But even if there is a red and a green area, all colors are from the same palette, which is very warm and with a touch of yellow.